Testimonials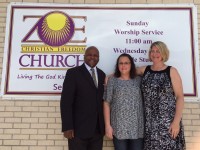 Matt.5:16
Hello,
I opened my journal today and in the inside cover was Zoe Christian Freedom Church pamphlet. On the bottom I read "Restoring and building up men, women and families in the pursuit of GOD."I opened it up and there was a picture of the both of you. As I look at the picture I begin to think of what a beautiful couple the two of you are. I think of the things Pastor had told us in Celebrate Recovery that had already been over come by the two of you and I began to really feel touched by the walking testimony that you two are as one in Christ Jesus. God has done a great work in the two of you and is clearly not done. He has such great plans for you still to come. "For I know the thoughts that I think toward you, says the LORD, thoughts of peace and not of evil, to give you a future and a hope." ‭‭Jeremiah‬ ‭29:11‬ I can still remember in my extremely dark days when Zoe was located over by the dance studio. Jocelyn was in one of your girls classes. I don't remember any other parent or yet the teacher that taught the class but I do remember the two of you. I can remember seeing something different in the two of you. I liked it but was almost jealous of it which made me a little bitter. I can remember the pull that Gods spirit had on me to find out what the room you kept coming out of always so happy and smiling was all about. I could see the love you had for your children and each other and wanted that same thing. Well after going further down the dark path God used you two again to reach me and ever since then I haven't let go of Gods love. Yes I've stumbled but I took Jesus' hand, got back up, dusted myself off and continued to follow him in a deeper intimate relationship. Please never forget where you came from and shout out from the roof the wonders the Lord has done in your life because you never know who may be touched by His Glorious light! "Let your light so shine before men, that they may see your good works and glorify your Father in heaven."‭‭ Matthew‬ ‭
5:16
‬ I love the both of you so much and want you to know that I look up to the two of you a lot. I also would like you to spread my love to Zoe church. They are so very blessed!
Love April
Sent from my iPhone
MESSAGES RESPONDING TO PASTOR PORÉ'S SERMONS
In response to the message "God Favors You" one supporter wrote:
Pastor Dan, thank you for this inspiring message. It actually came to me at the perfect time in my life. I used to pray that Gods will be done in my life, ( yet throughout the years not knowing or understanding what Gods will was for me )butI did so out of childhood religious education obedience that taught," not to question." Never not once realizing and believing that its OK to give our Lord clear specifics of what my heart desires in conjunction with my desire to please him,to loveand adore to allow and make his love and merciful forgiveness a manifestation of my entire being.
Thank you Pastor, for allowing God to use you